When Should My Child Get a Checking Account?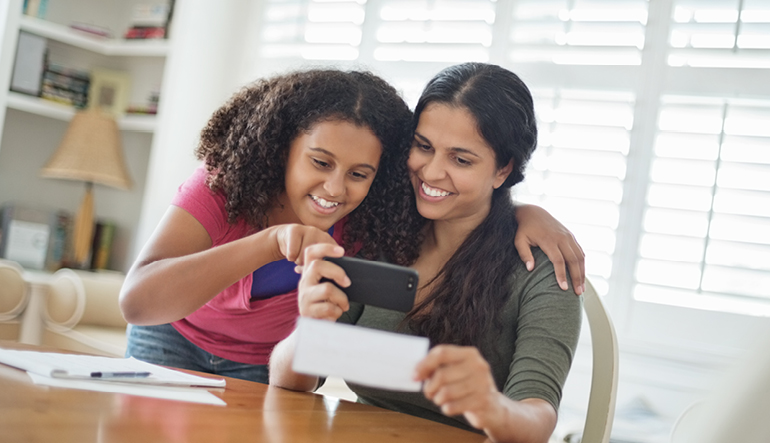 When Should My Child Open a Checking Account?
Money shapes the way we live our lives and it is important to instill financial responsibility into our children starting at a young age. While many parents start savings accounts for their children, some may wonder the proper time to introduce a checking account. While there may not be a perfect age, introducing the concept of money management after your child has developed a basic understanding of money will help set them up for a bright financial future. This is especially important as your child enters their teenage years and shows an interest in earning and using their own money. The teenage years are a critically important time to start developing personal money management responsibilities. Below are some important reminders to consider when making your decision to open a checking account for your child, as well as some tips to get started.
Benefits of Opening a Teen Checking Account
When you open a checking account and give your child a debit card, it will help them feel in control and allow them to learn the importance of budgeting when making their spending decisions. Don't worry, you as the parent can still have control over their money until the age of 18. Be sure to take your child with you to the financial institution when opening their account and make it a habit to bring them with you when you make routine visits so they get to be a part of the full banking experience. By introducing this concept of debit card ownership, aside from just budgeting, you can teach your child to review their statements, understand the difference between a debit and credit card, the importance of saving and how to set financial goals. You can help build their checking account by depositing money received from gifts or allowance, or they can deposit money they earn on their own. You can match amounts they save or introduce interest to show them the importance and value of saving and the benefits that come with it. Having a checking account will also help introduce the concept of monthly expenses and bills to show that although their money is growing in their account, there are financial responsibilities that come with money management.
Things to Consider Prior to Opening the Account
When taking the step to research a financial institution for your child, make sure to check to see if there is a minimum age requirement to open a checking account. Once you select your financial institution, make sure to have conversations with your child about responsible spending habits. Opening a checking account might confuse them and could lead them to believe they can use their debit card for any and all purchases, regardless of the money in the account. Make sure that they grasp the concept of money management. Aside from talking to your kids about money, it is also very important to ask if your selected financial institution offers financial literacy resources. Make sure to do your research and find a financial institution that can offer not only just the checking account for your child but options of financial education or resources to explore as well. Another item to look for when researching financial institutions are monthly fees. Most financial institutions with teen accounts do not normally charge monthly fees, but you should verify that with your institution. Some teen accounts may also require a minimum balance, so confirm this with your financial institution as well. We've touched on some important things to consider when beginning the process of finding the right teen checking account and it is never a bad idea to introduce money management concepts and activities to your child, just keep these key components in mind.
Easy Ways to Get the Financial Wellness Ball Rolling
Start with a piggy bank. If your child is too young to open a checking account with your financial institution, a piggy bank can begin to introduce the basics of saving money. You can also purchase toys that involve money like a cash register, and then role play exchanging toy money for desired items. There are also books and online programs to help your child learn about money as well. For example, the SDCCU Biz Kid$ program is an award-winning comprehensive financial literacy program focused on teaching kids how to use credit wisely and the importance of saving, budgeting, investing and giving back to their communities. The program includes an Emmy Award-winning television series from the creators of Bill Nye the Science Guy, free classroom curriculum, outreach activities and a website for kids of all ages. All of the Biz Kid$ episodes adhere to national, state and local standards for financial literacy and entrepreneurship education. You can learn more about Biz Kid$ at sdcccu.com/bizkids.

The SDCCU Teen First Checking account is a great option for Southern California teens between the ages of 13 and 17, who are looking to start managing their money responsibly. This is a great option since there is no monthly fee. Also, once the teen member turns 18, the Teen First Checking account automatically converts to a FREE Checking with eStatements account and is free when enrolled in eStatements. Please visit sdccu.com/banking for more information.

Introducing financial responsibility and literacy to your child at a young age will guide them towards positive money management and a successful financial future. The most important part is getting the process started. Depending on your child's age, the above tips and considerations can help guide you and your child on the right path towards their first checking account and becoming a financially literate, savvy consumer.

Visit our Financial Knowledge Blog to learn more tips on setting up a solid financial future or join us for Financial Wellness Wednesdays.