Low Cost Halloween Costume Ideas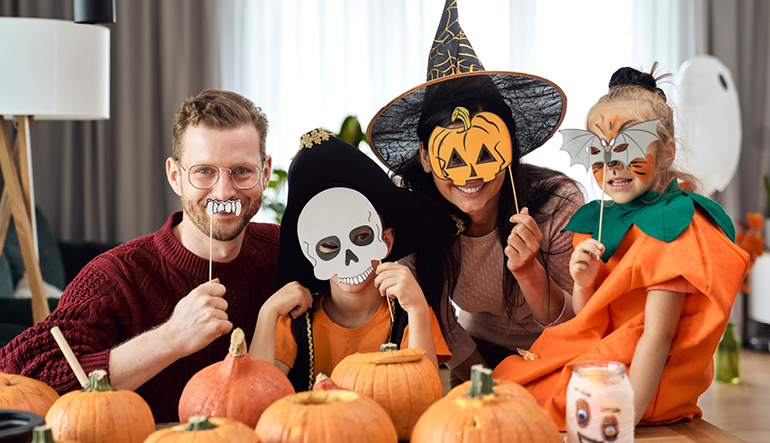 Low Cost Halloween Costume Ideas
Getting dressed up for Halloween is fun, but it can become pricey depending on the costume of your choice and any accessories that may come with it. Halloween is just around the corner, and below are some cost-saving tips to make the most out of your Halloween costumes while saving money and providing imaginative ideas.
Sell/Trade Your Old Costume
Before reinventing the wheel, think of family and friends who may have old costumes you could sell or trade with for an alternative to purchasing new. Recycling costumes are great for kids or teens who may have outgrown old costumes. If you don't have anyone to trade with, you can also post on social media community pages. Even costume props or jewelry can earn you a few extra dollars toward this year's Halloween costume creation.
Use Household Items
Do you have an old sheet at home? If so, you can use that to dress up as a ghost, roman toga, mummy, angel or even as a super hero! You often have the necessary items for some great Halloween costumes lying around our homes. Avoid buying costume make-up when you already have regular everyday makeup that can be used, or ask a friend for help if you don't have makeup at home. Use your favorite sports jerseys to dress up as your favorite team player or use a concert t-shirt to dress up as a fan. Extra cardboard boxes can be used for robot costumes. You can also go as your favorite Nerd or Smarty Pants by attaching candy, printing out candy cutouts or taping candy to your pants. The options are limitless! Don't hesitate to get creative. Think outside the box and use items you wouldn't normally use.
Shop Discount and Budget Stores
Thrift stores and dollar stores are great options for looking for low budget accessories to add to any homemade costume. Finding clothes at thrift stores, ripping them up and adding food dye is a quick and easy zombie costume. These discount stores can also provide quick and easy face masks or headbands like cat ears for simple costumes. There are also great inexpensive craft sections in these discount stores to spruce up any costume with glitter, paint, jewels or other accents. Depending on how early you start planning your costume idea, you may find last year's costumes on sale or fully assembled costumes for low or discounted prices if you beat the rush and start early.
Whatever costume ideas you land on, have fun and use what you've got! The opportunities are endless, and this is a great way to be creative and use household items to create homemade costumes and memories along the way. Think outside the box and share these great Halloween money saving ideas with family and friends.
Visit our
Financial Knowledge Blog
to learn more tips on setting up a solid financial future or join us for
Financial Wellness Wednesdays
.