How to Vacation on a Budget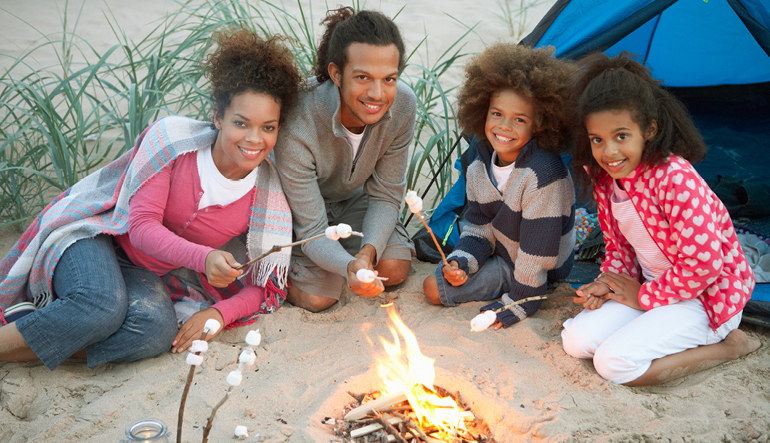 Summer is here and you're probably ready for a much needed vacation. However, vacations can be expensive and your budget may need to be reviewed before you start planning. Here are some helpful tips to ensure you enjoy your time off and stay within your budget.
Plan Your Budget
First, taking a vacation on a budget starts with planning. Write down your preferences and priorities. When planning your vacation budget, consider how much money you should allocate to where you are staying, your travel arrangements and your daily activities. Once you have a budget, make sure you notate where you are willing to make compromises and where you are not. This will help you know what luxuries you can afford while on vacation. For instance, pick a less luxurious hotel or location to ensure you can afford a more costly activity or experience like a unique excursion or an extravagant dinner. Once you set a budget, make sure to stick to it so your vacation doesn't leave you with an unforeseen debt once you return home.

Opt for a Staycation
Staycations allow you to take time off and enjoy the luxuries of a vacation without having to allocate funds for travel and transportation. Booking a hotel or vacation rental near your home will help reduce the cost of travel by eliminating flights, car rentals and excessive gas use. Eliminating these expenses allows you to spend more on other activities and luxuries that may have not previously fit in the budget. Exploring your city or the cities surrounding your home allows you to concentrate on relaxation rather than daily routines.

Book in Advance
Planning ahead can be a big cost saver. Flights, hotels and rental cars tend to be more expensive the closer you get to your trip. Planning ahead also saves you from the stress of potentially not getting the flight or rental that you had originally desired. Book flights on days like Tuesday or Wednesday as ticket prices are less expensive than on weekends. But, if booking in advance isn't a possibility, then opt for online travel sites like Groupon and Expedia that offer better deals on last minute trips. Remember to opt-in for notifications on deals from airlines or hotels so you can utilize the discount codes provided throughout the year to help you save on purchases.

Take Advantage of Group Rates
If you like to travel with family or friends, group travel tends to be a better bang for your buck than individual travel as you get group discounts, with average discounts of 15%. Group travel also allows you to split costs, making rentals more affordable. Booking a rental, like a cabin for instance, at a $200 per night rate between five people works out to $40 a night per person. This option is typically more affordable than booking multiple hotel rooms or individual rentals, and usually offers better rental options with more amenities. If individual rooms are a must, hotels offer discounts when booking multiple rooms at the same time, so call the hotel directly to see what discounts may be available. Some major airlines also offer group rates on travel. Make sure to check their official websites for group rates or call their reservation center when booking your next trip!

Wholesale Club Discounts
Some warehouse club stores, for example, often offer membership discounts which can provide reduced rates on hotels, flights, cruises, rental cars, theme parks and package offers.

Be Flexible
Consider being flexible with your time off. Although planning from weekend to weekend may be ideal, having the flexibility of weekday travel can lower hotel and flight costs. Itinerary flexibility can also allow you to be more cost-efficient on your trip by giving you the ability to visit must-see sites and locations during less busy times. Another money saving idea is to consider visiting a popular restaurants during breakfast or lunch hours so that you can save money on the meal while still enjoying the dining experience. Asking family, friends, locals or the internet for their recommendations also opens the door to spontaneity and new adventures that will make the trip more memorable at lower cost.

Consider Camping or National Parks
Camping is a great vacation option because it eliminates the cost of hotel rooms and rentals. An America the Beautiful National Park pass costs just $80 for the entire year and includes entrance to over 2,000 sites and standard amenity fees and day use, which covers all passengers in a vehicle. Discounts are available for seniors and veterans can receive a free annual pass (information can be found here. National parks can be a cheap vacation option because you can camp onsite, whether in a designated camp ground (reservations typically required) or in areas designated for tents and overnight parking (reservations not typically required). If you're camping somewhere that does not require a reservation, make sure you get a backcountry permit. There are various camping websites that offer free information on locations to sleep that include amenities like showers, bathrooms and more. Be sure to research permitted activities and guidelines at different parks and campgrounds to ensure you are keeping our national parks clean and protected. Camping allows you to enjoy a location at a lower cost than hotels and affords you the opportunity to hike, enjoy nature, kayak, rock climb and more. Make it an adventure by road tripping to various national parks and enjoy multiple beautiful locations while maintaining your budget.

Vacationing on a budget is possible and enjoyable. Just be sure to keep these tips in mind so you can vacation smarter. Now that you have more ideas on how to plan for your upcoming trips, it's time to start booking!

Visit our Financial Knowledge Blog to learn more tips on setting up a solid financial future or join us for Financial Wellness Wednesdays.