6 Steps to Improve Your Money Mindset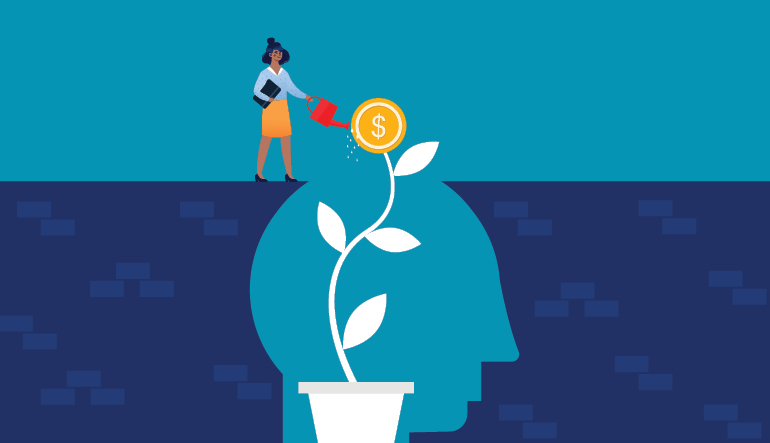 Financial freedom is more than just having enough money in your bank account to pay your debts. Do you want to know what makes one person successful with money while another person struggles? It may be in part due to their money mindset. Your money mindset is your unique set of beliefs and your attitude about money. Your money mindset helps shape what you believe you can and cannot do with money and how much money you believe you're entitled to and able to earn. Your goals may revolve around becoming debt-free, saving money, investing or having a million dollars in a retirement account, but without the right mindset, your goals will be really difficult to reach. Here are six tips to help you improve your money mindset on your journey to building real wealth.
Understand Your Views Toward Money – If you feel confused or have a negative mindset when it comes to finances, this may lead you to give up on your financial goals. It's important to approach your finances from a place of openness, curiosity and excitement. It will also help you make choices that are aligned with those productive thoughts. To help you shift your money mindset, spend some time setting new financial goals. Your goals are the foundation of your financial plan. For great tips on creating financial goals review our other blog, How to Set Important Financial Goals and Achieve Them.
Picture Your Future Self – Where do you see yourself in five, 10, 20 or even 30 years? What skills have you developed? What have you accomplished? Visualizing your future can be an effective exercise to help you see that you're on the right path to attaining your financial goals. Filling in those missing pieces for yourself can help set up and bring that future vision to life. You might also try picturing your dream retirement that includes where you'll be living and how you'll be spending your time. When you can see your future self, you can find the motivation you need to get there. Maybe this year commit to maxing out your retirement accounts or increasing the contributions to your other investments.
Immerse Yourself in Knowledge – Financial management isn't simply instinctive, it's something you need to work toward and spend time with to get right. Take advantage of resources like books, blogs, webinars and articles to broaden your perspective and help you improve in the areas where you're struggling. Also, consider your immediate social network, like your family, friends and colleagues for support about the questions you have. Seek out a professional, such as a financial advisor who can help address your money mindset and give you practical tools to improve it. For more insight, read our blog post: What to Expect from a Financial Advisor. An experienced financial advisor is available to meet with you one-on-one to help create your personal roadmap to pursue financial success. If you're looking for a great financial planner in your area, SDCCU has been voted San Diego's BEST Financial Planner in The San Diego Union-Tribune Readers Poll for eleven years straight.
Discern Between Needs Versus Wants – The better you can distinguish needs versus wants and base your budget on your needs first and then the wants second, the better off financially you will be later in life. As you create your monthly spending plan or budget, allocate money for your needs first. That means designate money first for reasonable food, clothing, shelter, transportation, utilities and other true necessities. For more tips on building a budget visit How to Budget Your Money: Budgeting Tips & Tricks That Actually Work.
Don't Focus on What Others Have – Keeping up with the Joneses can be a killer on your wallet and on your mindset. Have you ever felt you are behind other people your age when you see the things they have? You may feel inadequate and you can wind up spending money you don't have just to try and keep up. The irony is that the people you're comparing yourself to may also feel the same about others or might not have their finances together yet either. As soon as you realize that other people might be putting up a phony facade, you will start to worry less about what others have.
Practice Gratitude – It's a good idea to practice being grateful for what you do have and the progress you have made. You certainly don't want to hide from your financial problems, but often your money mindset is too focused on what's not going your way. When you train yourself to be more grateful, you become more content with what you have and less focused on what you don't have. Write down all the good things about your finances currently, keep tabs on any small wins you've had as you progress, and be proud of what you do have in your life.
As you follow these steps to change your money mindset, you will be able to move closer toward a better financial wellbeing. It can make all the difference when it comes to achieving your life and financial goals. It will, however, require constant focus and nurturing. It's all about setting the right intentions and keeping your goals top of mind. You are more than capable of adjusting and improving your money mindset and the rewards will be well worth it. Financial freedom is more than just having a lot of money in your bank account. Imagine the feeling of being debt free or knowing you're prepared for retirement? That is true financial freedom!
Visit our
Financial Knowledge Blog
to learn more tips on setting up a solid financial future or join us for
Financial Wellness Wednesdays
.