What to Expect from a Financial Advisor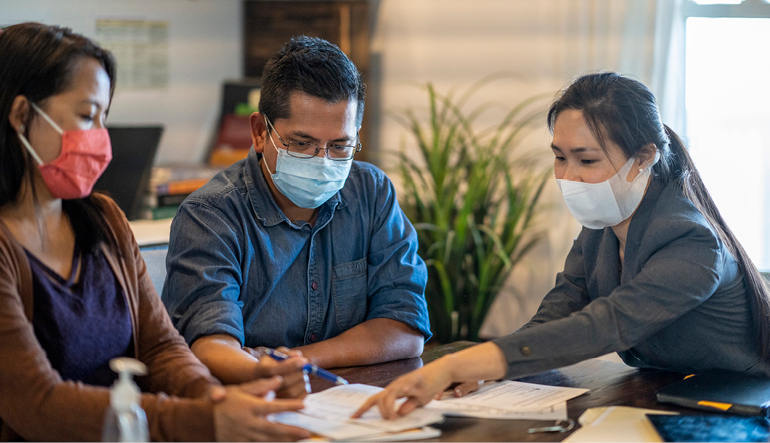 Financial advisors can help you create a plan for meeting your financial goals and guide your progress along the way. A recent study showed that 70% of those who work with a financial advisor are on track or ahead in saving for retirement, compared to just 33% of those who don't use an advisor.₁ Most people, especially those who aren't familiar with strategies for financial planning and investing might want somebody with experience to help them manage it– that's when an advisor can be very helpful. If you are considering working with a financial advisor, you will need to know what to expect from them. To ensure you get a good match when considering an advisor, make sure your expectations are clear upfront. Below is a list of things that are important to understand and consider when choosing or evaluating a financial advisor.
What is a Financial Advisor?
A financial advisor is a licensed professional who provides financial services or guidance to clients for compensation. They create strategies for lowering financial risk and building wealth over the long term. The specific products that an advisor chooses to sell to you determines their required license. There are two financial advisor licenses; Series 6 and Series 7, which are both administered by the Financial Industry Regulatory Authority or FINRA. The Series 6 enables financial advisors to sell packaged securities, such as mutual funds and variable annuities. A financial advisor with only a Series 6 may not sell individual stock or bonds. The Series 7 is the gold standard of financial advisor licenses and allows an advisor to sell nearly every type of investment product; stocks, bonds, options and futures. Many advisors are licensed to directly buy and sell financial products; such as stocks, bonds, annuities and insurance. Depending on the agreement they have with their clients, advisors may have the clients' permission to make decisions about buying and selling stocks and bonds. A seasoned advisor can often help you stay on the roller coaster of investing. They understand the market fluctuations, which can help you stay focused on the long term financial planning. And, they can offer a level of service that makes their expertise a crucial part of any retirement plan.
Basic Steps to Prepare for a Consultation with a Financial Advisor:
You should have a basic idea of your current financial picture and financial goals. Your financial advisor can't help you reach your retirement goals if they don't know where you want to go.

If you have joint finances with a partner or spouse, it is a good idea to discuss what your ideal retirement goals are so when it's time to meet with a financial advisor, you will have a clear set of shared goals which will make it easier for the financial advisor to figure out the right direction for you.

You should come prepared with the following documents if applicable:

401(K) and other investment plan statements

Mortgage and other debt statements

Paystubs for you and/or your spouse

Your most recent tax return

Prior to meeting with a financial advisor, it's a good idea to do a background check of the investment advisor that you're considering working with on FINRA's BrokerCheck site. The site will tell you instantly whether a person or firm is registered, as required by law, to sell securities; stocks, bonds, mutual funds and offer investment advice or both.
What to Expect from Your Consultation with an Advisor
Expect a thorough assessment of your current financial situation during the first meeting with your financial advisor. They'll ask a number of questions to gain a clearer picture of your life, money, family and personal goals. Be prepared to disclose information about your assets, such as cash flow and investments. It's important to be open about any debt you may have accumulated. This in-depth conversation is vital as it lets your advisor know where you're at from a financial perspective. Once you have opened up about your current finances, the next step it to discuss your financial goals. This is where your advisor will ask particular questions, such as the following:

At what age would you like to retire?

What does your dream retirement look like?

Do you plan to work into retirement?

Do you have kids? Do you plan to send them to college and pay for it?

Do you own a home? If not, would you like to buy one and when?

Who will be your beneficiaries?

As the financial advisor gets a better understanding of what your goals are and what risks you are willing to take, they can guide you to help maximize your savings and investments and minimize potential losses. They can even assist you with succession and estate planning, answer insurance questions and more. The advisor's responsibility is to keep your financial future on track by:

Creating a personalized investment portfolio based on your goals and objectives.

Providing advice and up-to-date solutions tailored to your investments, lifestyle and financial resources.

Providing a full range of products and services to meet your needs.

Providing an ongoing advisory relationship to meet your changing lifestyle.

By the end of the first meeting, your advisor should have a clear view of your current financial picture. That view should also include your dreams and hopes of where you want to be in the future and an idea of how you can get there. While you likely won't leave with a new investment portfolio, you will have a personalized outline designed to help you address your goals. The plan should give you insights into your financial future, including how much you want to save each month, where you will invest and why. Plan on coming back for annual check-ins that give you and your advisor a chance to review your investments together to ensure they're performing as expected and you're making progress toward your goal.


SDCCU offers a complete array of financial products and services. Financial Advisors are available at branch locations in San Diego, Riverside and Orange counties to help you identify your financial goals and build a personalized financial investment plan to work toward reaching them. SDCCU has been voted San Diego's BEST Financial Planner in The San Diego Union-Tribune Readers Poll for eleven years straight. An experienced Financial Advisor is available to meet with you one-on-one to create your personal roadmap to pursue financial success. The right choices make all the difference when investing for your financial future. Take advantage of your complimentary investment consultation with an experienced SDCCU Financial Advisor. For Financial Advisor location and contact information, visit sdccu.com.

Visit our Financial Knowledge Blog to learn more tips on setting up a solid financial future or join us for Financial Wellness Wednesdays.