5 Ways to Spend Less on Valentine's Day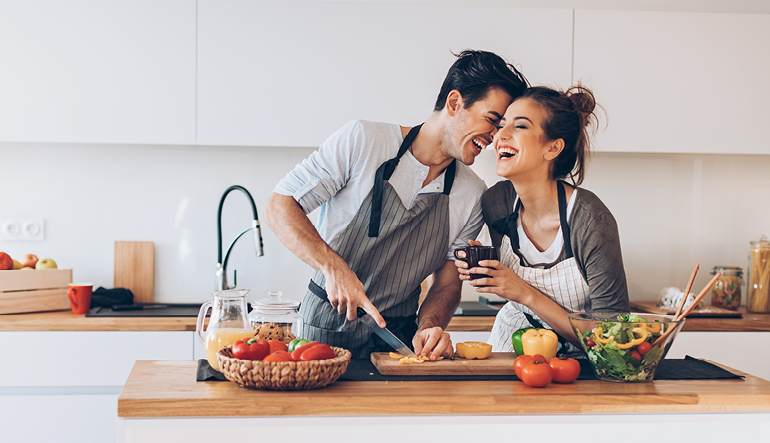 5 Ways to Spend Less on Valentine's Day
For some, Valentine's Day is another ordinary day, but for others, it's a chance to spoil their loved ones with gifts. It's understandable to want to show your love to your significant other, but it shouldn't be a reason to blow your budget and get into debt just to perform a grand gesture. There are plenty of ways you can display your affection without throwing your budget off track. Here are some inexpensive ways to spend less this Valentine's Day.
1. Make a Nice Meal at Home
Start the day off by making your Valentine their favorite breakfast. Prepare a selection of delicious breakfast items and a pot of tea or coffee. The gesture sets the right tone for the day and will put your significant other in a cheerful, happy mood.
Restaurants make a lot of money on Valentine's Day, as they know many people want to go all out for their loved ones. While some restaurants offer unique Valentine's Day menus, many will charge you a premium for an unforgettable experience. An excellent alternative for someone looking to spend less on Valentine's Day is to make a nice home-cooked meal. Consider what your loved ones' favorite meal is and make it!
You could prepare a fancy three-course meal for them or, even better, have them make dinner with you. This will ensure you reconnect with them, and as you partake in the activity, you get to spend more time together enjoying each other's company.
2. Make a Handmade Gift
Valentine's Day gifts like flowers and chocolates are considered standard. While your significant other may appreciate these gifts, a creative homemade gift lets them know you think about them and remember subtle details about what they love. Handmade gifts are more meaningful and memorable than even the prettiest store-bought items.
There are plenty of personalized gifts to choose from. You can make them a card and include pictures of the two of you together, frame a photo that highlights an accomplishment such as a graduation or birthday, write a heartfelt poem or simply make them their favorite dessert.
You can also write cute little compliments on slips of paper and fill a jar with them. These love notes can include special memories and things that remind you of them.
Alternatively, you can create a "coupon book" that includes action-inspired items that your partner can redeem anytime. Examples include an hour massage, breakfast in bed on their day or weekend of choice or a car wash. This is a great way to show your love without plundering your savings.
3. Queue Up Your Favorite Movies for a Movie Marathon
Going out to the movies is an excellent way to the day with your Valentine, but the cost can run high depending on ticket pricing and concessions. Hosting a movie marathon at home is a nice, cost-efficient alternative. Prepare their favorite snacks and run through your favorite movies! A movie marathon at home guarantees just as much fun as going out to watch one!
4. Plan a Fun Activity Together
If you're tired of the usual movies or dining out, look for an activity you have been itching to do but haven't had time to do.
Plan a scavenger hunt inside your house or around the neighborhood with a reward. Create clues specific to your relationships and dig up wonderful memories about each other.
A creative activity you can engage in with your Valentine is a joint arts and crafts project. Purchase art supplies, and once the project is complete, you can add the masterpiece to your home, even if it isn't perfect!
5. Explore the Outdoors Together
An outdoor picnic is a fun gesture that allows you to enjoy the outdoors and the extraordinary scenery that the Southern California region has to offer. A sunset picnic overlooking the ocean can be just as good as a restaurant experience and you might even have a better view. Pack a basket with homemade goodies like cheese and crackers and engage in a nice conversation together.
Have Fun on Valentine's Day without Breaking the Bank
Valentine's Day can be expensive, but it doesn't mean you have to forego activities to spare your wallet. The world is yours on Valentine's Day!
Visit our
Financial Knowledge Blog
or join our
Financial Wellness Wednesdays
for more tips on how to set up a solid financial future.