Scam Quiz: Test and Protect Yourself!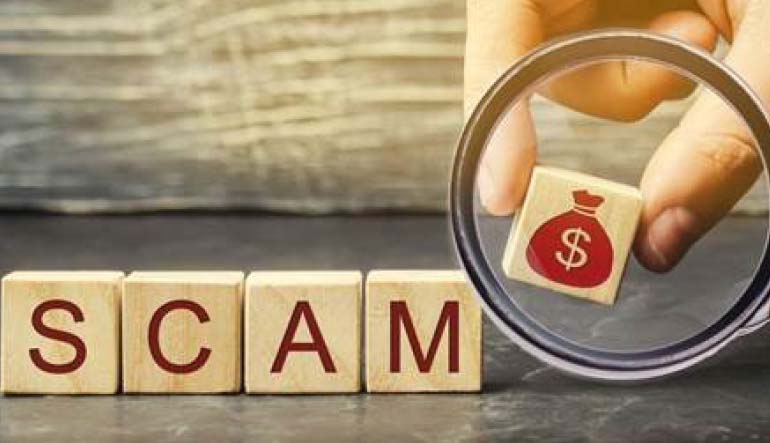 Test Your Knowledge and Protect Yourself With Our Scam Quiz!
Fraud and money scams have always been around but are becoming more prevalent and sophisticated. It can be easy to trust your level of judgment when it comes to spotting suspicious activity or behavior, but as money scams become more creative and unique, you can lose a significant amount of money in a matter of seconds if you're not aware of how you're likely to be targeted.
We've created a series of challenges that will test your knowledge and help you learn how to deal with common money scams that can put your money and investments at risk. Although this quiz may only be for fun, it'll reveal your level of risk for falling victim to common tactics that can outsmart even the most informed individuals.
For each correct answer, you'll receive a point. At the end of the quiz, tally your scores to learn how you've fared.
1. The Imposter Scam
You receive a voicemail or email from someone claiming to be from Amazon. It seems as though someone has purchased a rather unusual dress at a considerable cost. If you choose to dispute the charges, you need to contact the team at "Amazon" immediately by returning the call or clicking a link in the email.
What would you do?
Tips for Handling Imposter Scams
Unfortunately, many consumers will believe that someone has hacked their account, especially if the message from "Amazon" seems urgent. According to the
Consumer Sentinel Network
, these types of "imposter" scams raked in $546.2 million in 2021 alone.
Instead, follow these tips:
Never call back or click the links provided
Do not do business with Amazon sellers outside the official website
Refer to Amazon's specific directions for verifying the legitimacy of the message
If you clicked the link, you missed out on earning a point. But if you passed this round and found the message from Amazon to be suspicious, give yourself a point.
2. Fake Jobs Scam
You receive a phone call or text message asking you to
schedule an interview
. The job is in your field and quite lucrative, so you jump at the chance to learn more. But before the interview can begin, the employer (or hiring agency) needs to learn more about you. They ask you to provide additional information, such as your home address or financial details. They might even ask you to purchase some equipment that you'll need to work from home, though the promised rewards naturally outweigh this initial cost.
What would you do?
Tips for Avoiding Fake Jobs Scams
In a season of financial pressure, predators increase their efforts to take advantage of the chaos, especially following the recent pandemic. Here are some tips for navigating the job market without getting scammed:
Use a separate email address for job hunting
Set up a free Google Voice phone number to keep your personal number private
Call the company's human resources department directly using the contact information listed on the organization's website to verify the legitimacy of the job offer
Never disclose more personal information than what's in your resume
Did you decline the interview and say you are going to call the company directly? Give yourself a point!
3. Tax Imposter Scams
It turns out that you've underpaid your income taxes and now face severe penalties, or maybe even jail time. You must immediately reply to their voicemail or email to settle your account.
What would you do?
Tips for Avoiding Tax Imposter Scams
Like the "Amazon" scam from the first test, this type of scam relies on the ability to impersonate an authority figure. And because they represent the Internal Revenue Service, they can really dial up the pressure and convince you to remit payment to avoid the threats of severe penalties. Here's what you should know about tax scams:
The IRS will never call your phone
The IRS will not demand specific payment methods or require immediate payment
IRS agents may visit you in person, but only with proper credentials
The IRS will never ask for money payable to anything other than the U.S. Treasury
Did you laugh at the imposter and avoid finding his authoritative voice to be convincing? You can check the
IRS scam reporting webpage
. Oh, and give yourself another point.
4. Charity Scams
Do you have a moment to help our vets? Or how about a local youth program? In some cases, you might get a call from an organization asking you to pay for a charity pledge you don't remember making. But you don't want to let these charities down, do you?
What would you do?
Tips for Avoiding Charity Scams
What makes these scams so insidious is that they prey on our sense of goodwill. Heartstrings lead to purse strings, as they say, and many times the charity pitch is so strong that even the coldest heart can be moved.
If you're not sure about how to handle a charity, here's what you can do:
Press for information about the charity, then research thoroughly to ensure they're legit
Only use a trusted charity's preferred donation system (not the phone or email)
Don't let emotions prompt you to contribute to a charity if you're uncomfortable
If charity scams turn your stomach, you can help shut them down by reporting suspected scammers to your State Attorney General (AG). To locate your state's AG, visit the
National Association of Attorneys General
website. You've now earned an additional point on the quiz.
5. Romance Scams
You couldn't help yourself. You've fallen head-over-heels for an attractive person you just met online. The thing is, your new love interest doesn't come from a wealthy family. Under any other circumstances, they'd never ask for a loan. But times are tough, and they promise to pay you back.
What would you do?
How to Avoid Romance Scams
Romance scams develop easily
online
, where anonymity allows scam artists to hide behind their virtual identities. Here's how you can avoid being scammed:
Never share personal financial information
Avoid sharing details with someone you've never met in person
Consider making your social media profile(s) private
Love hurts, doesn't it? But if you've avoided this scam, give yourself another point.
Tally Your Score
Ready to see how you did? Add up the points you've to see how you have done!
5: Expert! Your money is safe and sound.
4: Impressive! Your knowledge will thwart most attacks from scammers.
3: Not bad, but it may be time to brush up on your knowledge of common scams.
2: You may avoid a few basic scams, but need to be very careful when something seems too good to be true.
1: Alert, alert! Danger! You're a prime target for scammers.
0: Now is a good time to start researching common scams.
For many scammers, beating you to take your money is their main goal. It's not a game to lose your hard-earned money. Explore our
scams webpage
to learn more about how to stay safe from threats and scams.
Visit our
Financial Knowledge Blog
to learn more tips on setting up a solid financial future, ask your employer about setting up a special workshop for you and your coworkers or join us for
Financial Wellness Wednesdays
.