6 Easy Ways Spring Clean Your Finances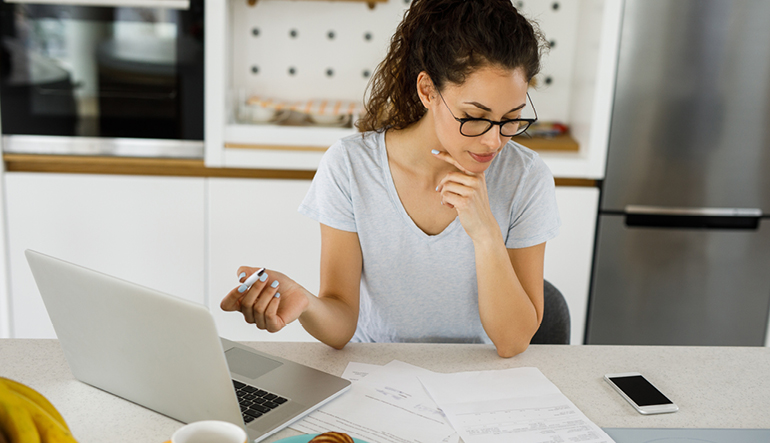 Spring is upon us! As you spring clean your home and prepare for summer, it's a good time to also do a little spring cleaning of your finances to end the season better than where you started. It could be tempting to put off making changes to financial habits, but tidying up loose ends now will set you on the path to a more successful financial future.
Update and Organize Financial Documents
Organizing your financial documents should always be a first priority. Many financial documents contain personal information and it's important to be sure these documents aren't sitting around for anyone to access. Reducing the chance of identity theft by properly shredding out-of-date documents and keeping the most current and important documents in a secure location is a good practice. Digital documents are a more practical option. Any titles for assets like owned autos, homes or other property should be securely stored and accessible so you don't have to look too long for those documents if needed. Consider updating any insurance plans, such as your home plan to ensure it covers any improvements or additions you have made. Making these updates an annual priority will keep items current and easy to access when necessary.
Dust Off Your Budget
Creating a budget will help anyone, at any level of income, evaluate where changes need to be made. A budget should start with proper tracking, whether you are using an excel sheet or a piece of paper, it needs to work for you. Identify your monthly income after taxes and then subtract fixed monthly expenses, including your share of the mortgage/rent, insurance and average utility costs. Be sure to include an accurate allowance for items such as groceries, fuel and entertainment which may vary from month to month. A budget will provide a better picture to see if you are spending more than you are bringing in or preferably bringing in more than you are spending, allowing you to build savings.
Clean Up Late Payments
Spring should also bring a cleanup to your credit, as better credit benefits your entire financial journey. One easy way to do this is to simplify your payment process and eliminate the possibility of late payments by setting up automatic withdrawals, bill pay services, or simply adding calendar reminders for bills. Fewer late payments reflected on your credit report will generally improve your credit score and more than likely reduce your financial stress. To review accounts with current or previous late payments, you should review your credit report. You can request a free credit report annually at annualcreditreport.com.
Toss Out Debt
Next, work on reducing your debt. We all have subscriptions that may not be benefiting us anymore, like newspapers we aren't reading or channel subscriptions we aren't watching. It's time to cancel those payments and see the difference that cutting out small expenses can makes. There are some debts we can't cancel but making a plan to pay the debt down faster will save you interest and the stress of another bill to track monthly. Reducing debt can improve your financial outlook and help you reach your financial goals. For more tips on reducing debt review 3 Straightforward Strategies for Repaying Debt.
Sweep Out Bad Habits
Managing unnecessary spending begins with identifying bad habits and working to improve them. Most of us enjoy eating at the newest hot restaurant, but eating out too frequently can really put a dent in your wallet. Making a point to eat out less frequently will make going out more of a treat and be easier on your budget. As you opt for home cooked meals, try to plan ahead. Make a list before you head to the store so you can stay focused on what you need which will also help save you money.
Start a Rainy Day Fund
As the past couple of years have shown us, we need to be prepared for not only the expected but the unexpected. Planning for auto and home repairs or maintenance, pet bills or an emergency, helps to alleviate the stress of a big financial burden happening at the most inconvenient time. Setting aside even a small amount can add up over time and can help you be better prepared for an unexpected financial event. If you need help with how to get started on your Rainy Day Fund, review our blog 5 Ways to Grow Your Savings.

Remember a tidy home and tidy finances require work, and the right plan will develop over time. And although different people will have different priorities, the goal is to help you improve your finances and prepare for your journey by developing better habits and sticking to them. Spring into action today!

Visit our Financial Knowledge Blog to learn more tips on setting up a solid financial future or join us for Financial Wellness Wednesdays.