How to Stop Living Paycheck to Paycheck in 7 steps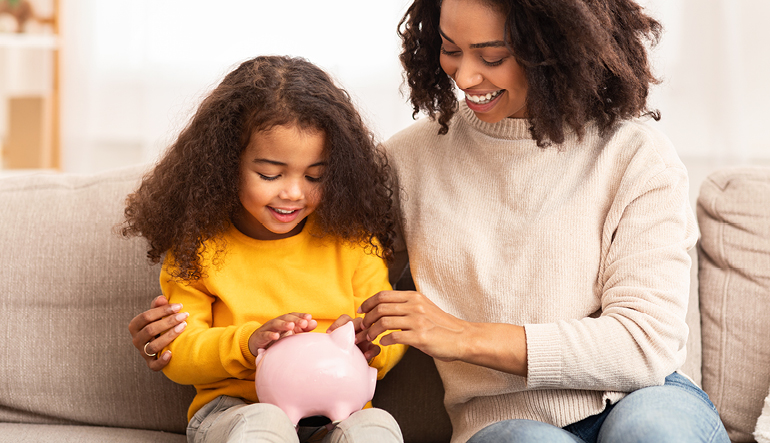 Do you find yourself staring at the calendar and counting down the days until your next paycheck? Is your paycheck already spent before it's even deposited? Do you wonder how you're going to pay your bills? Nearly 78 percent of American workers report they are living paycheck to paycheck. Hard economic times, especially during the pandemic, have not helped as more workers are feeling the added financial stress from layoffs, furloughs or pay cuts. However, there are strategies you can use to help break free from the cycle and finally stop living paycheck to paycheck. Below are seven ways to help you save more and worry less.
How to Stop Living Paycheck to Paycheck
1. Start a Budget

Do you ever wonder where your money went? Starting a budget can help you control your spending, track your expenses, save more money and stay accountable. It provides a roadmap on how to spend your hard earned money and can help you make better financial decisions, prepare for emergencies, get out of debt and stay focused on your long-term financial goals. Begin with income, and be conservative when it comes to bonuses or overtime. Track your income on a notepad, spreadsheet or use an app like Mint.com or EveryDollar. For more insight about tracking your spending, see our blog post, How to Track Your Spending in Today's Modern World.

There are a few popular budgeting methods you can use, such as the 50/30/20 budget, zero-based budgeting, the pay-yourself-first budget and more. Learn more and find the right method from our blogs at sdccu.com/blog.

Next, list all your expenses for the month like rent, phone, food, internet and everything in between. For annual expenses like car insurance premiums, memberships or subscriptions, simply divide by 12 to ensure they are accounted for. Since expenses change from month to month, you'll need to be sure you adjust your budget before each month begins. Now subtract all your planned expenses from your monthly income. The goal here is that you are spending less than you are making. You will want a cushion of a few hundred dollars for your checking account to avoid overdraft fees in the event you underestimate your expenses.

2. Live Below Your Means

Now that you have a clear picture of your total income, it's time to reel in the spending so you can save more. Spending money can feel good and for many, living on a budget is difficult. However, tracking your spending and practicing sound personal finances can help you no matter how much money you make. Often times, a bump in pay can make you spend even more. It's tempting to spend more money when you're making more of it, but it's important to ensure you are saving. Pay attention and stick to your budget no matter how big your raise. Think about cutting services you hardly use. You can negotiate with your service providers for discounts or cancel them to save extra money. Start with your cable and cell phone data plans. Here are some ideas of other ideas to cut or reduce spending and implement money-saving strategies:
Groceries

Meal planning and preparation versus ordering from your favorite app
Couponing

Bargain shopping
Entertainment

Low cost hobbies
Activities outside

Gym memberships

Outside exercise like walking or running
Health reimbursement options from your employer

Clothing

Repair clothing items
Shop consignment
Purchase higher quality, longer lasting items and avoid "fast fashion"

Subscriptions

Cut subscriptions you don't use much
Choose a lower priced plan

Paying with cash can also help you save money when you live paycheck to paycheck. It will help you think twice when you physically have a limited amount of cash to spend, which can reduce impulse buying. Research shows you'll spend 12 to 18 percent more if you're in a store using a credit card, than you would using cash.₁ Finally, eliminate unnecessary fees on checking accounts by looking for free checking accounts that don't require minimum balances and have no monthly account fees. SDCCU offers Free Checking with eStatements with no monthly account fees. Additionally, stay on top of your loan payments to avoid paying unnecessary late fees.

3. Start a Temporary Job or Side Hustle

If you've already cut expenses and still need more income, you may want to take on an extra part-time job, if possible. This could give you extra income to cover expenses, save for big-ticket item, or pay down debt. Finding more ways to increase your income is the most effective way to stop living paycheck to paycheck. Here are some ideas to make extra money: Driving or delivering for rideshare apps, being a barista, or seasonal retail work. Also, there are plenty of work-from-home jobs you can do after hours or on the weekend too. You can do odd jobs around your neighborhood, like cutting grass, picking up leaves, babysitting or dog walking. Or, you can even sell items you don't use on the many different selling apps like OfferUp! or LetGo. This doesn't have to be a permanent side hustle, but you'll want to work at least until you pay off some bills and have a stronger financial situation.

4. Set Aside Money from Your Paycheck

You should redirect 10 percent of your direct deposit into a savings account and even if you start with only $20 a paycheck, you will start to feel more confident about handling your finances. This means your savings comes out of each paycheck automatically so you don't touch it. If it's too tempting having the savings and checking accounts at the same financial institution because you can transfer it back to your checking, then consider having the savings account at another institution. Mark the account as your emergency fund, with the first goal of saving one month's paycheck. Then, keep increasing the percentage of your paycheck that you save and if you get a bonus or a gift of cash, divert a big part of that into savings, too.

5. Stop Using Your Credit Cards

If you're carrying a lot of debt it's most likely eating up a big portion of your paycheck which can hold you back from doing the things you want to do the most. Of course, it's more difficult to get out of debt if you continue spending money on your credit cards. Consider not using your credit cards altogether until you are completely out of debt. If it proves too tempting, cut up all your credit cards but one and put your credit purchases on the remaining card and pay it off each month, no matter what. While you're doing this, avoid taking on other types of debt like an auto loan until you have gained better control of your finances. Your emergency fund can help you pay for car repairs and cover other unexpected expenses so that you no longer have to rely on credit cards to get out of a tight situation.

6. Learn to Cook

Your food expenses take up a significant portion of your budget and it's cheaper and healthier to cook at home than to eat out. You may be saying to yourself, "I don't know how to cook." It doesn't have to be hard, even if you only have a small amount of basic ingredients, you can still whip up a delicious meal for yourself. There are also many free online culinary recipes, videos and even courses to help prepare you to cook and provide direction on what ingredients to buy. Learning to cook will save you a lot of money on dining out, it's relaxing and you get to eat the fruits of your labor.

7. Refinance Your Mortgage or Auto Loan

If you have a home mortgage, it's time to talk to a lender to see if you qualify for a refinance. This will depend on various factors, including your income, debt-to-income ratio and credit scores. If you are able to secure a lower rate, crunch the numbers to make sure the savings outweigh the costs. When mortgage rates are low, you may be able to save hundreds of dollars a month with a lower interest rate. SDCCU offers low rate conforming and jumbo home loans in California. You may even be able to take advantage of the No Closing Costs Adjustable Rate Mortgage.

Also consider refinancing your auto loan with a lower interest rate, which can help you pay off your loan faster or lower your monthly payment depending on the term you select. Make the smart choice and come to SDCCU for your auto loan. SDCCU was voted the BEST Auto Loan Provider by The San Diego Union-Tribune Readers Poll for the 7th year.

Visit our Financial Knowledge Blog to learn more tips on setting up a solid financial future or join us for Financial Wellness Wednesdays.
₁In a recent study people spend 12%-18% more when using credit cards instead of cash https://www.nerdwallet.com/article/credit-cards/credit-cards-make-you-spend-more#:~:text=Another%20often%2Dcited%20study%20is,cash%20and%20non%2Dcash%20transactions.