4 Ways to Get Comfortable Talking About Money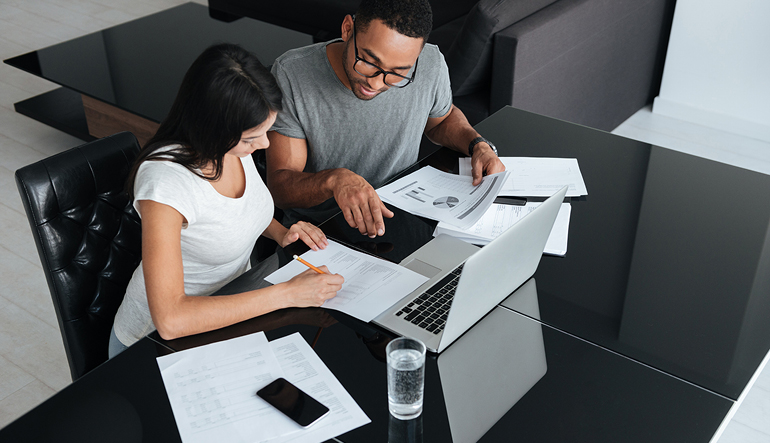 4 Ways to Get Comfortable Talking About Money
Why is money so hard to talk about? Topics surrounding salaries or how much is in your savings account are usually avoided at happy hour or even among loved ones and friends. It seems we'd rather talk politics or personal beliefs, which can be more divisive, than about our present financial situations. Money is an integral part of everyone's life, yet it's a topic avoided and almost viewed as inappropriate to discuss. According to Fidelity, 34 percent of cohabiting couples, couldn't correctly identify how much money the other makes. Taking it further, the same study mentioned that people are "more comfortable" talking with friends about marital discord, mental health and addiction, than money.

Let's first acknowledge the reasons why money can be difficult for some people to talk about.
Financial embarrassment – Many people are embarrassed or insecure about the money they make, how much debt they're in and how little they have saved. Being insecure about your finances is common but with a little vulnerability, you can see that being open and talking with people, especially trusted family and friends, can prove to be helpful.

Lack of understanding – When you don't understand something, it is hard and uncomfortable to engage in conversation about it. What is your savings plan? What is your credit score? What about your monthly expenses? Having a general understanding of your financial details and plans will help you have productive conversations about money.

Individual value – How much you make doesn't define your standing or value as a human being. At times our society places too much value on how much you make and uses that as a measuring tool for your standing in the world or your worth. However, the amount you make, doesn't necessarily equate to how financially smart, stable or successful you are.
The problem with not talking about money is that we risk continuing to make the same mistakes with our finances. A recent Capital Group study mentioned that nearly 90 percent of respondents agreed that they need to start doing a better job of saving and investing for the future. By ignoring the money subject, we can't learn from each other. So what can we do about the taboo topic of money? The following steps can help make the subject of money a bit more comfortable for you to discuss.
Educate yourself – There's no need to re-enroll in school to learn how to make a budget and develop a savings plan. There's plenty of great information available online to help you be more comfortable talking about your finances. Visit sdccu.com/fww for webinars on a variety of money-related topics.

Same, but also different – Your financial situation is totally different than the next person. The sooner you stop comparing yourself or your finances to others, the more comfortable conversations about money will be. You'll quickly realize, while many items might differ, some of the same struggles apply from person to person regardless of income.

Being vulnerable – It's OK to be a little vulnerable with a trusting individual. Whether it's your partner or a financial advisor, once all your cards are on the table, the stress of your situation will decrease and a plan to financial stability will begin.

Pay it forward – Lastly, there's going to come a point when you're financially stable and someone will approach you with the same trepidation you had. Remember to pay it forward by being sincere, humble and non-judgmental. Encourage others the way you were encouraged.
The best way to feel comfortable talking about money is to simply start. Take baby steps and start somewhere with a trusting individual. You alone may not change the idea of money being a taboo topic but normalizing it within your network could be helpful to many people. Besides, how else can you end the taboo?

Visit our Financial Knowledge Blog to learn more tips on setting up a solid financial future or join us for Financial Wellness Wednesdays.