Watch Out for These 3 Pandemic Scams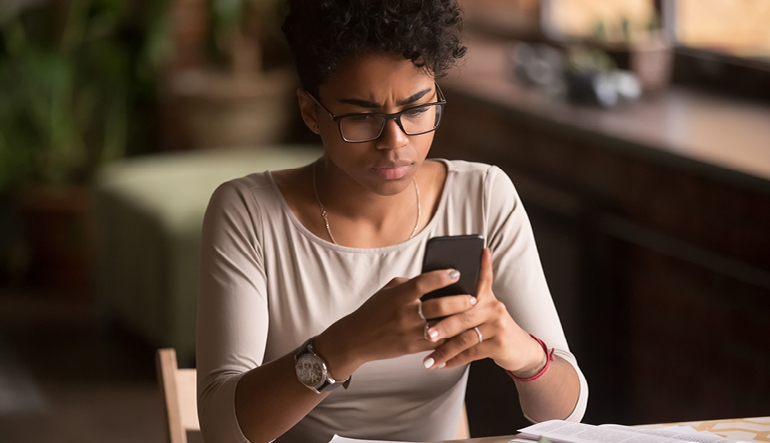 Watch Out for These 3 Pandemic Scams
As we are now in the early stages of the COVID-19 vaccine distribution, scammers are out in full force capitalizing on the desire that many have to put an end to this quarantine. While we all wish for the days of attending concerts, family gatherings or other large events, it's important to not get complacent and take shortcuts with your personal information as it relates to COVID-19 vaccines, tracking and testing. Scammers are taking full advantage of emotions and COVID-fatigue with fake offers and convincing deals, but we need to be aware of what's real and what could be a scam.
As of January 2021, there are two authorized vaccines being administered for COVID-19 and they are currently free to everyone who is eligible to receive the vaccine. Eligibility is being determined at the federal, state and county levels with tiers for those who will receive it first. It is recommend you visit your specific county website to determine which tier you fall into. Your primary health care provider may also have information on vaccine distribution and when you will be eligible. Of course this information still doesn't make the waiting process any easier for those who wish to get the vaccine and pecific details regarding your turn on the timeline might be a bit vague. Because of this, it's important to be aware of the disinformation and scams out there and avoid any vaccine/COVID-19 related scams. More information and tips to help keep yourself and your personal information secure are below.
COVID-19 Contact Tracing
Contact tracing has been a vital resource in letting people know if they've been exposed to COVID-19. Informing the public of possible exposure encourages people to get tested and limit their interaction with others to prevent further spread. However, this opens the door for criminals posing as COVID-19 contact tracers to try to pry personal information such as credit card and bank information from unsuspecting victims. Scammers will often call pretending to be from the health department and share that you've been in contact with someone who has COVID-19. After they have your attention, questions that begin with "before we continue," "I'll just need to verify," etc. are used to obtain personal information that you would not be asked for by a legitimate contact tracer. A contact tracer will never ask for payment or seek financial information. Their job is to inform of possible exposure, ask about symptoms and encourage isolation and/or testing. Be mindful of text messages or emails claiming you've been exposed with directions to click on an external link. If you receive one of these, ignore and delete the message as this will be a scam. If you're unsure of a phone call you received regarding contact tracing, hang up and call your local county office to inquire about whether or not the call was legitimate. It's better to be overly cautious, than sorry.
COVID-19 Testing
With this highly contagious virus, the demand for testing has put a strain on available sites, and scammers have taken notice, putting together fake COVID-19 testing sites. Not only are there actual fake testing sites but there are also scammers with fake testing offers via phone and email. These scammers offer low cost, quick turnaround results, which are enticing to many who are eager to get results and confirm their health. These scammers take personal information including social security numbers and physical addresses along with payments for the testing and give nothing in return. Be wary of unsolicited emails or calls about getting a COVID-19 test. Do research on the company that reached out to you. Look for any information about them online, such as reviews or articles proving their legitimacy. If you do not find what you are looking for, you probably have been targeted for a scam. Your best option for real COVID-19 testing locations is to contact your primary health care provider and get a referral from them. You can also visit your local county website for testing information and sites to visit. Like with many offers, if it seems too good to be true, it probably is.
Vaccine Scams
As mentioned above, the vaccine rollout is still a work in progress with frontline workers including medical and first responders along with high-risk individuals and seniors having priority. Scammers follow the headlines to tap into people's vulnerability, and the COVID-19 vaccine has dominated the headlines in recent weeks. The FBI issued a warning urging people to be cautious when opening emails and texts from unknown senders who promise information on getting a vaccine. Scammers have used tactics such as setting up fake websites and using unsolicited calls or texts promising a vaccine appointment in exchange for payment or contact information. As it stands, it's unlikely for a standalone company to have the COVID-19 vaccine and administer it. Only health care providers and county health departments should be trusted with the vaccine distribution. Make sure to only give out your insurance and health information to professionals you trust and have an established relationship with and whatever you do, don't inject vaccines you purchased online or from an unknown source. It bears repeating again, for vaccine info, contact your doctor or visit your county's website for the most up to date information.
Scammers are after your personal information in hopes to take advantage of your finances. The uncertainty of COVID-19 has increased these scams but it is important to always be aware of what you click, who you talk to and what you share. Threats to financial security can happen at any time or any place and you are your own best line of defense.
Learn more about cyber security safety, including information on current COVID-19 related scams from expert Jim Stickley
here
, or visit our website for other Jim Stickley
resources
. If you think you've been a victim of a scam, report it to the Federal Trade Commission (FTC) at
reportfraud.ftc.gov
.