Curb Holiday Overspending in 4 Simple Steps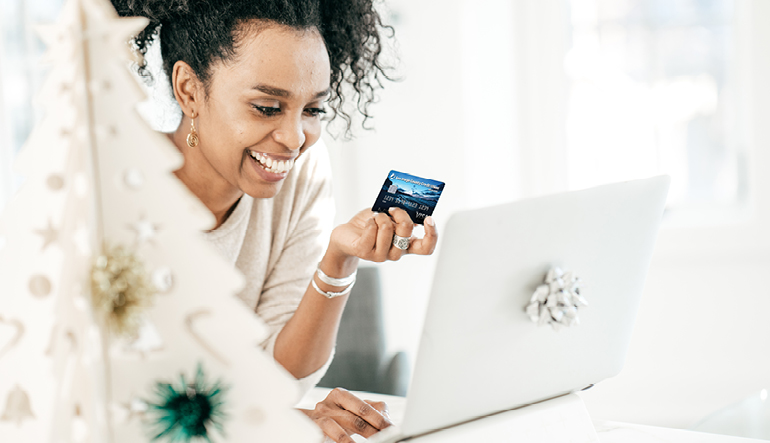 It's that time of year again - holiday shopping time! The excitement of the holidays often leads to increased shopping and sometimes, overspending. According to a survey conducted by
WalletHub,
98 million Americans admitted they overspent last holiday season. This year, it may be even easier to overspend since stay at home orders have conditioned many of us to do most, if not all, of our shopping online—making it nearly effortless to order and or purchase anything with the click of a button. What holiday shoppers need to realize are the reasons for our shopping habits and how to avoid unnecessary purchases. Here are some tips and tricks that shoppers can use during the holiday season that can help save money and eliminate the future stress of overspending.
Start with a Plan
Before hitting the stores or searching online, establish a budget and make a list. Whether it's a set total amount or certain dollar amount per person you are shopping for, you want to begin with a plan so you don't overspend or forget anyone or anything you may need. A key thing to remember is that your budget should include the full scope of your holiday shopping, which means adding grocery items for holiday meals in addition to gifts. Retailers strategically place impulse items in areas to make it easy for shoppers to grab and buy—be sure that once your list is made, you stick to it, and don't fall victim to these impulses! Also, it's important to remember to select gifts based on your finances and not the requests of friends and family. Buying gifts for everyone you know can get pricey, so make sure you are evaluating how much gift giving is right for you.
Do Your Shopping Research – In Person or Online
Once your shopping list is created, make sure to research which items you are looking for before buying. Stay on track and always remember this important tip: most retailers will offer price match but do not promote it. It doesn't hurt to ask and do your research online first to compare pricing and avoid having to shop at different stores if one store can price match all the items on your list. Keep in mind that stores may be willing to even price match online specials, it doesn't hurt to ask! In addition, you can look for coupon codes, sign up for newsletters to receive a discount code or ask associates, if shopping in person, if they have any coupons available, especially for those items already on sale. Whether it be retail or grocery, some retailers may offer military, senior, first responder and/or student discounts. But remember, when you use your email address to subscribe to your favorite stores to receive an additional discount, your clicks can be tracked and marketers can retarget shoppers with ads and similar items driving us to want to shop and spend more. So again, it's important to stick to your list and avoid impulse shopping!
Aim to Save When Shopping
Do not wait until the last minute to shop for your holiday meals; grocery stores are the busiest during the holiday season. Shop early and remember most grocery stores have scheduled days when their food is on sale. For example, produce may be on sale on Wednesdays, whereas meat is on sale on Thursdays. The name brand products aren't always better and generic brands or store brands almost always taste and look the same but are slightly less expensive. Also, note that some stores strategically place name brand items towards the front of the store on sale to get rid of products that are not being purchased—once again, tugging on your impulses. Get familiar with store weekly ads near you and execute an action plan based on the schedules and items you need. Don't forget your coupons and check online for any apps that offer online coupons you can use in store. And, as many have learned during the pandemic, delivered groceries are always a great idea to avoid the stores and any unnecessary impulse shopping, just watch out for delivery or service fees.
Be Selective on Social Media
Social media also plays a major role in enticing us to spend and want more. If you are trying to save money, avoid adding your favorite stores to your social media platforms or consider reducing or unsubscribing from their emails. A sale is great but a coupon could be better. Retailers, especially around the holiday time typically have a sale "you do not want to miss," but these "exclusive sales" are often simply marketing tactics to appeal to shoppers and get you in the store or online to spend money. Sticking to your list and your budget will help you not be enticed by these promotions.
We hope these inside tips help you on your next shopping trip. Most importantly, understand that retailers want you to spend more and use tactics to ensure you do so. Creating a holiday budget and sticking to it is your number one tool to avoid overspending during the holiday season.
Visit our
Financial Knowledge Blog
to learn more tips on setting up a solid financial future or join us for
Financial Wellness Wednesdays
.