7 Steps to Save During the Holidays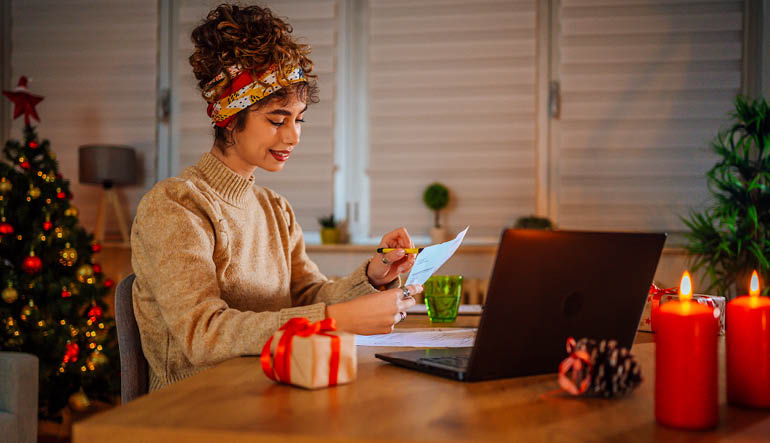 The holiday season is upon us, and you might find yourself wondering how you'll be able to budget your holiday shopping to avoid experiencing the dreaded "holiday financial hangover" once the festivities are over. This year, let go of the obligation to give beyond your means and be realistic about your finances by committing to keeping your giving under budget. Below are seven steps to help you save during the holidays and avoid a "holiday financial hangover."
1. Build a Realistic Budget
One of the keys to a stress-free holiday season is setting a realistic budget. Start by listing all of your holiday expenses, including gifts, decorations, travel and entertainment. Be as detailed as possible. Once you have a comprehensive list, allocate a specific amount of money to each category. A good baseline to start is to see how much you spent last year. Keep all of your expenses in one place using a notebook, spreadsheet or tracking system to summarize your intended spending for the holidays.
2. Evaluate the Number of People on Your Gift List
Now that you have your list and spending plan, determine if you need to trim it down. Look over your list carefully and circle all the people you feel you must buy gifts for, like your immediate family, children, spouse and parents. Afterwards, write down everyone else you plan to give gifts to, from your in-laws to your mail carrier. Put a dollar amount next to each name so you can stick to your budget. If your budget won't allow you to purchase gifts for everyone, consider lower cost gift alternatives like a homemade card expressing your appreciation.
3. Think Carefully About the Gifts
Gifts don't have to be expensive, there are many free or low-cost gift options that can help stretch your budget further this holiday season. For example, if you wanted to do something for neighbors or coworkers, consider making something that would be less expensive than purchasing a gift, like creating a personalized card or baking cookies. Consider other options like setting a spending or age limit on gifts and only purchasing gifts for the younger members of your extended family.
4. Plan Early and Shop Smart
Plan to shop for holiday gifts as early as possible. By starting early, you have more time to compare prices, find deals and avoid crowded stores. If you plan early enough, you can keep an eye out for holiday gifts throughout the year, as there are always great post-holiday deals on everything from gift-wrapping to winter clothing. Take advantage of the savings after the holiday season to avoid paying full price next year.
5. Do Your Research
A great holiday budgeting tip is to price check the gifts you are considering. Comparing prices at different stores will help you stretch your dollars further. Additionally, it's always a great idea to see if a store will price match. If you see a high priced item you'd like to purchase at a store, shop it online and save yourself the shipping by simply asking if the store will match the lower price online. It's always worth asking, as many stores will price match.
You can also research exclusive discounts, cashback offers and coupons to maximize your savings online. Lastly, make sure you check the return policy on all purchases, especially online, in case returns are required after the holidays.
6. Group Gifts or Giving Your Time
Another great way to keep your budget on track is to consider doing family or group gifts. If you're purchasing gifts for your extended family, consider a membership to a theme park, zoo or another local attraction so they can use the membership at any time. To save in additional ways, offer to baby sit or pet sit for a family member – who doesn't love the precious gift of free time?
If you want to give back to your community this holiday season, give the gift of your time. Find a local non-profit that offers volunteer opportunities and volunteer. This creates warm memories that can last a lifetime and teaches children a valuable lesson.
7. Create New Traditions
Reduce the cost of gift giving while increasing the fun by playing a gift-giving game like "White Elephant." The goal of the White Elephant game is to entertain your loved ones with small, memorable gifts, rather than expensive items that may be out of your budget.
Another cost effective idea is to host a book exchange. Ask your loved ones to bring a book they enjoy so everyone can participate in the swap. You can also give back to your community by donating books that don't make anyone's new reading list to the local library or a charity.
If you enjoy holiday parties, host an "Ugly Christmas Sweater" party. Invite your family and friends to wear their favorite ugly sweaters, and the ugliest sweater will win a prize.
8. Save up for Expensive Presents
If you are planning to buy a big-ticket item, a good way to prevent depleting your savings account is to set aside money each month. One of the best ways to save is to set up automatic transfers from your checking account to your savings account. This can help you save automatically with minimal effort.
The holiday season is all about fun and spending quality time with loved ones. You do not have to spend beyond your budget to enjoy the season. A bit of creativity and self-discipline can go a long way to help you avoid a debt-free holiday season.
Visit our
Financial Knowledge Blog
to learn more tips on setting up a solid financial future or join us for
Financial Wellness Wednesdays
.