4 Tips for Car Buying During COVID-19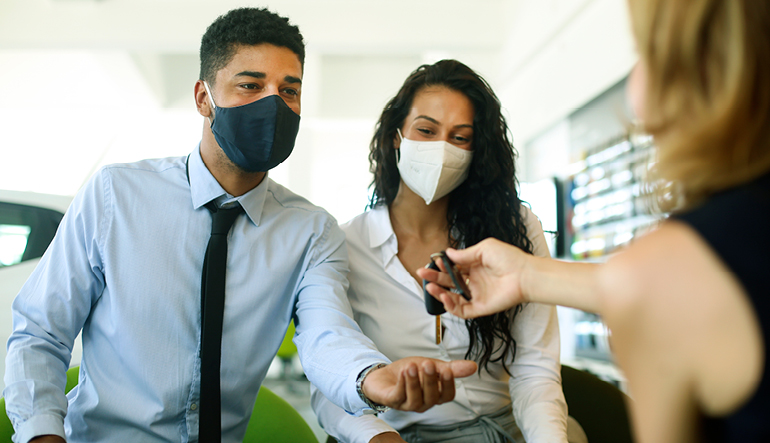 4 Tips for Car Buying During COVID-19
Buying a car (or truck, SUV or other vehicle) is one of the larger financial purchases you will make. With it can come a range of difficult decisions, including whether to select new or used, whether to lease versus buy, which model and make to get and more! And now, with the added challenges of buying a car during the coronavirus pandemic, you might not even know where to start. Traditionally, buying a car requires a lot of time at the dealership and personal interaction, which is something we all are trying to avoid during the pandemic. Additionally, the pandemic has elevated uncertainty with job security and the economy. The bright side is that shopping for a car during this time is easier than you may think, and there are some great deals to be had in the process
Is Now the Right Time?
The answer to this depends on your current situation. Dealerships are doing all they can to ensure your safety during the car buying process (as we'll discuss later), so if safety is a concern, proper precautions have been taken at many dealerships. If you're in a position financially to purchase a vehicle and your employment is secure, the timing couldn't be better. Because auto sales have dipped during the pandemic, many automakers and dealers are boosting incentives for purchasing a vehicle. With low interest rates, deferred payments and other offers, you might find an incredible deal. But before you start shopping, make sure you've reviewed
SDCCU's Auto Loan calculator
to see how much vehicle you can afford.
Below are four tips and things to consider to safely and successfully navigate the auto buying process during COVID-19.
1. Do Your Homework
Thankfully, we live in an internet age with plenty of online resources at our fingertips. Now more than ever, you should research specific vehicles, features, pricing and even inventory at your local dealership. All of this is possible without leaving the comfort and safety of your home. Customers can also research the specific dealership where they plan to purchase the vehicle and read other customer reviews on the buying experience. Part of your homework should also include getting your numbers in order before contact with the dealership even happens. Make sure you know your credit score and have a budget identified. If you're an SDCCU customer with an existing loan, you can view your FICO Score in Internet Branch under the Self Service tab and Account Service box. Doing your homework beforehand prevents any unnecessary time spent at the dealership. A great resource that will help you with this process is
SDCCU's Online Auto Buying Service Powered by TRUECar
. This resource helps save time, money and hassle while keeping you safe.
2. Secure Financing Beforehand
One of the most important things you can do as a consumer before buying a car is to secure financing before you even enter a dealership. Failing to do this subjects you to dealer financing, which means the rate offered could be higher than the one you would get with your financial institution, and no one wants to pay a higher interest rate. It's best to have your pre-approval with you and be aware of how much you qualify for and what interest rate you can get from your financial institution. SDCCU has been voted BEST Auto Loan Provider by The San Diego Union-Tribune for 11 years in a row. To browse our offerings, visit the
SDCCU Auto Loan page
. With an easy and secure online application process, you can cross another step off your car buying checklist without leaving the house.
3. Contactless Test Drive
The test drive is your time to make sure the car you really want feels and moves on the road like you expect. Drive the surface streets and jump on the highway to see how the car sounds when going 65 miles per hour. You might think that with COVID-19 a test drive isn't possible unless you visit the dealership. That's not entirely true as many dealerships are adopting free test drives at home. Many dealerships will drop off the vehicle at your home (within a specific range) so you can safely test drive on your own with limited to no contact with the dealership staff. Check with your local dealership ahead of time to confirm they offer this service. Make sure you're test driving the actual car you plan to buy, not a stand-in or similar vehicle. Just sitting in the vehicle and taking the sales persons word for it isn't sufficient. This process is worth it and helps mitigate the buyer's remorse some people feel after buying a car.
4. Speak With Your Insurance Company
Purchasing a new vehicle could lead to an increased premium compared to your current car, especially if it's an older model. It's worth the few minutes it takes to call your insurance company prior to the purchase and see what the increase to your insurance premium payment might be. While you're speaking with them, ask about discounts that might be applicable for you during COVID-19. Some insurance companies are lowing rates or payments because of reductions in miles driven with many now working remotely.
The feeling of purchasing your own car and driving it for the first time should be special. Follow the above steps to ensure that great feeling while also keeping yourself safe. SDCCU is here to help so make sure to visit
the SDCCU Auto Loan page
for more information on how we can make the car buying process easier for you during COVID-19. Happy car shopping!
Visit our
Financial Knowledge Blog
to learn more tips on setting up a solid financial future or join us for
Financial Wellness Wednesdays
.