Practical Budget Cuts to Save You Money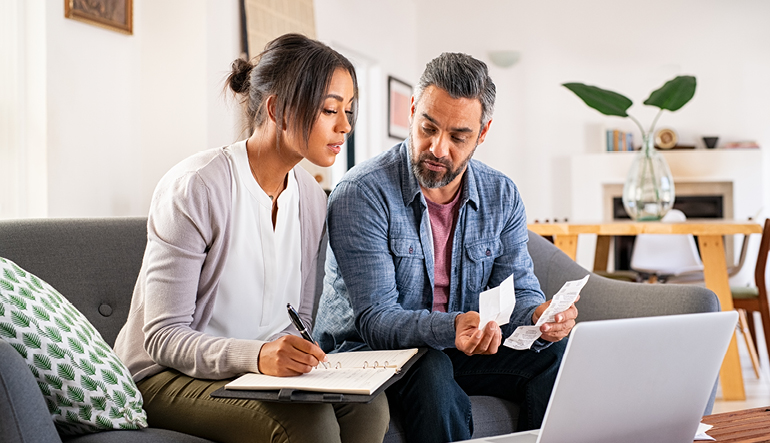 Practical Budget Cuts to Save Money
It's fair to say that most people want to live debt free lives, but excessive spending could be causing you financial stress. Monthly expenses can get out of hand quickly if you don't plan strategically, so here are a few practical budget cuts to help you achieve financial goals and relieve stress.
Reviewing Your Budget:
If you are not already utilizing a budget method, now is the best time to start. Budgets help you compare the income you receive and the expenses you have accumulated. If you need help choosing the right budget for you, check out SDCCU's blog:
Finding the Budget Style That Works for You
. Once you have a budget in place be sure to track both small and large expenses and routinely evaluate what adjustments you need to make. For instance, if you have a car loan that has been paid in full, decide where to allocate that payment resource. A good approach to use those extra funds is to pay your debt with the highest interest rate. Not only will it help you save interest, but it will also help you pay off that debt sooner.
Shopping Alternatives/Meal Planning
Before grocery shopping, carefully plan your shopping list and consider other stores that may offer discounts. A
recent study by Consumer Reports
has shown that certain grocery stores who provide the best prices may not deliver the name brand we are familiar with. Although some stores offer the convenience of buying produce and household goods in one location, you could be paying a higher price for convenience. Just because locations like Walmart offer the opportunity to buy most items under one roof, it does not mean that it is the cheapest option for your budgeting needs. Be sure to make a list of needs for groceries or household items so that you can plan your monthly shopping intentionally. Some nonperishable items are better to buy in bulk. Buying items in bulk reduces the number of shopping trips and reduces overall costs. When shopping for items like canned goods, it's best to check grocery stores' weekly ads or BOGO deals so you can stock up when they are on sale. Planning and prepping meals ahead of time will help reduce impulsive spending and will also reduce the number of meals you eat out, saving you more money. Buying generic could also save you money. Name-brand items are often more costly than the same item you could purchase without the recognized name.
Reduce Electricity Bills
Electricity bills are at an all-time high. Whether you own or rent, the burden of paying for gas, water and electricity can add yet another financial strain to your budget. Buying energy efficient devices like light bulbs or device controllable thermostats can help you save throughout the year. Thermostat device upgrades could offer automated energy saving options like reducing heat or air conditioning during times your family is not home. This can also assist with optimizing the times that those appliances are being used. Additional energy savings options include turning off certain devices like computers, printers, etc. when not in use. Most people will leave these devices plugged in unknowingly realizing that they are still using energy in sleep mode. As an alternative to standard energy company usage, consider using solar devices to help save you money on your energy bill (if your budget allows). Solar is becoming more popular and cheaper solar options are available. Research different companies that provide solar panel alternatives.
Insurance Bundles/Discounts
Most insurance companies provide significant discounts for grouping multiple insurance policies in one, like multi car discounts and multi policy discounts. Shopping your insurance rates every year is a smart exercise for any household budget. Contact your insurance company to see if they are providing any discounts you may qualify for. Having all insurance policies in one place could save you money, however, make sure to evaluate your current insurance coverage to make sure it's only what you need. A higher insurance deductible on your car or home could mean saving money on the policy but be sure you have funds to cover the higher deductible when needed. There may also be an opportunity to receive a discount for automating your payments instead of manually making payments to your insurance company. This can also be helpful by ensuring your payments are made on time each month.
Pet Insurance
An expense that some households have to prepare for are our furry friends. As unpredictable as emergency pet visits can be, you are able to prepare for some situations. Getting pet insurance can help reduce the costs of unexpected vet visits and the cost of routine visits such as vaccinations, medications and preventative care. Research the best insurance for your pets to help keep these costs low, while having peace of mind should an emergency arise.
Affordable Entertainment
An internet bill is a common household expense. Do some research on other provider deals to make sure you have the best pricing. You can also contact both your current internet provider and competitors to see if they offer discounts for employment, club memberships and more. In addition to those discounts, most providers offer discounts for bundling internet, cable and/or phone. Consider canceling cable or finding an alternative streaming subscription that could provide a more affordable monthly cost. Research if your cell phone company can also provide discounts dependent on employment and memberships. Depending on the number of phone lines you have with the company, some providers offer an additional discount. If you don't already have a family plan in place, it may be a good time to evaluate cost saving bundles.
PMI/Refinancing Mortgage
As you evaluate any current home loan expenses, check your current mortgage payments for items that you could remove to reduce your cost. For those who obtained a loan with less than 20% of a down payment, you most likely are paying for private mortgage insurance, commonly called PMI. PMI isn't automatically removed when you reach 20% equity in your home. You can contact your mortgage provider to remove PMI when it is no longer required. This change may be available to reduce the amount of your income needed to be allocated to your mortgage. Refinancing your mortgage can also be a cost saving option as you could reduce the interest rate on your loan. Be sure to refinance so you can take advantage of lower interest rates.
Consolidate Debts
Debt can be a big financial burden to have to account for in your budget. As an alternative to having multiple credit cards or loans with balances, it may be best to look into consolidating that debt into one payment. A large benefit of doing this would be to have only one payment to account for each month. In addition, you could have a loan with a lower interest rate than a credit card may offer, reducing the overall interest paid and potentially paying off your debt sooner. Personal loans are popular to help consolidate debts. Real estate loans, such as a Home Equity Line of Credit (HELOC) or Home Equity Loan are also good options for consolidation.
Decluttering
Although it is not a traditional option, decluttering your home could help reduce your financial burdens by offering additional income. Selling items around your home that you no longer need or use could help pay for some additional expenses you may have. Certain websites help you sell items to people around your area so you don't have to worry about shipping. If you are not ready to part with a particular item, there are sites where you can rent your belongings to neighbors to utilize for a period of time.
The delayed gratification you can feel by achieving a financial goal, such as saving for a luxurious vacation, comes with making strategic financial choices. Evaluate your budget and do research as to where you save money to help reduce financial burdens. Utilize these helpful tips to help you make changes where available to help you save for the future.
Visit our
Financial Knowledge Blog
to learn more tips on setting up a solid financial future or join us for
Financial Wellness Wednesdays
.