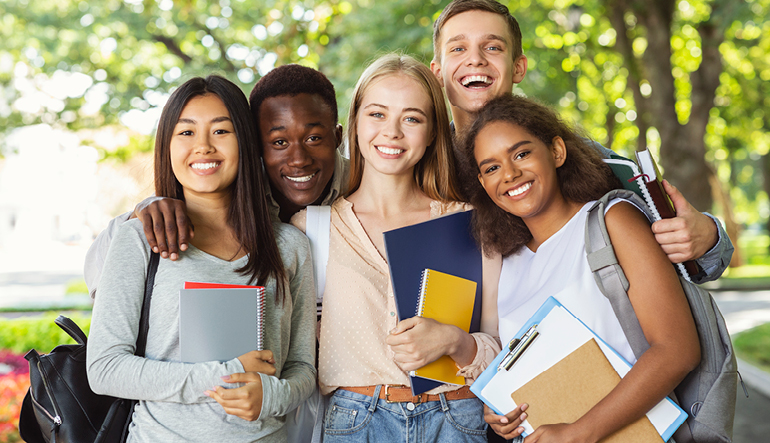 How to Pay for College
This fall, millions of students will start college for the first time. Paying for college is a challenge many families face. With rising college tuition and housing costs, the stress of funding higher education can often feel overwhelming. According to U.S. News & World Report, the average cost of tuition for 2020-2021 is expected to be: $35,087 for private college, $21,184 for public out-of-state and $9,687 for public in state.₁ Those numbers may seem daunting, however, by planning and using resources available for parents and children, even a family from modest means can afford college. There's one thing all experts agree on when it comes to preparing and paying for college – start saving early. The cost of higher education will surely increase from the time your child is born to when they attend college, so it's a great idea to get a jumpstart on savings and have compound interest working in your favor.

Once you've decided to start saving, the next step is determining which savings vehicle to use. The great news is you don't have to limit yourself to just one option. Any combination of the following are good options and can help you prepare for the expenses associated with college. You may also want to consider consulting with a financial advisor who can take a look at your financial situation and help draw up a plan to pay for college while also keeping other goals in mind such as retirement. Below are a few savings vehicles to help you reach your higher education goal:
529 plan – Savings plans designed to save for future educational costs that offer tax advantages. There are two types of 529 plans:

Prepaid tuition plans – Allows the account holder to purchase units and pay for mandatory fees (usually public and in state) for future use but at today's rates.

Education Savings Plan – An investment account to save for the beneficiary's future higher education expenses such as tuition, fees and room and board. With this plan, funds can also be used for any K-12 expenses. Withdrawals can be used at most any college.
In the case of both 529 plans, if your child doesn't attend college, the money saved can be transferred to another beneficiary or withdrawn but subject to taxes.
Coverdell Education Savings Account (Coverdell ESA) – A trust or custodial account set up to help fund education expenses for the beneficiary. Guardians can contribute a max of $2,000 per year tax deferred. The funds in a Coverdell ESA must be used by the time the beneficiary is 30 years old or taxes and fees accompany withdraws.
Custodian account – A saving account that a parent or guardian has control over until the minor reaches legal age.

General Savings account – A good option to store money, until you have decided the best savings plan to grow the college fund in, but not ideal for long term as it lacks some of the tax benefits the other accounts offer.

Certificate Accounts and Savings Bonds – Not the most common savings vehicles for college but offer safe returns on your money at a conservative rate. Although we should mention, they also lack some of the tax benefits available with other accounts.
While establishing a solid savings plan will help start your college saving off right, there are a variety of other factors that may influence your decision on what college to attend and how to keep costs down while enrolled. Affordability is the biggest consideration for most people, and here are some suggestions to help keep the annual college bill down:
Consider staying in state for college – According to the National Center for Education Statistics (NCES), on average, it costs $8,990 more annually for students to attend a college out of state.

Compare financial aid packages – Carefully compare the packages being offered from college to college, because some colleges might offer more generous aid packages that better meet your needs and can help save you money.

Attend community college – Starting at a community college is a great way to save money and take care of your general education courses while figuring out what you want to focus on and major in. You can save a significant amount of money and then transfer to a four-year college to complete your degree in two years or less.

Live off campus – Campus housing and meal plans can be very expensive compared to living off campus. Consider finding an apartment near campus, shop for your own groceries and cook at home to save additional funds.
When it's time to start planning how to pay for college, you may need additional resources to cover any remaining tuition costs. Most students qualify for some form of financial aid, whether you come from a military family, have stellar grades or demonstrate a financial need, there are loans, grants and scholarships that are designed to help you achieve your goals. To get a better idea of your options, here is list of additional ways to pay the remaining tuition balance for college:
FAFSA – A very important first step to take when figuring out how to pay for college is to complete the Free Application for Federal Student Aid, or FAFSA. This form will determine your eligibility for financial assistance like federal loans, grants, work-study benefits and even some merit aid.

Scholarships – This is a great way to receive money for college that does not need to be paid back. Scholarships often cover a specific area of study, interest, qualification or achievement, and are funded by many different providers. Some examples of scholarship categories include academic, athletic, race, military families, writers, LGBTQ and so many more. You can also use resources like FastWeb and CollegeBoard to find scholarships.

Grants – Grants like scholarships, do not need to be repaid. They may come in the form of private grants from your institution, state funds or federal funds like the Pell Grant. The Pell Grant is the largest federal grant program for undergraduate students. It is awarded to students who demonstrate financial need, and the amount varies depending on full-time or part-time student status, the cost of your school and the duration of your studies.

Work-Study – A work-study program provides part-time employment opportunities while you're in school. Available to undergraduate, graduate and professional students, work-study helps those with a financial need pay tuition costs, fees or other costs like room and board. The U.S. Department of Education reports that there are roughly 3,400 participating post-secondary institutions offering work-study on or off-campus. If you qualify, make sure you take advantage of it while you're in school.

Federal Student Loans – Borrowing money is also one of the most common methods of paying for school. Federal loans, which are issued by the government, are categorized into two types for undergraduate students: direct subsidized (based on financial need) and direct unsubsidized loans (not based on financial need). They offer a low fixed interest rate and flexible repayment options. Federal student loans do have annual and lifetime limits, putting a cap on how much you can get through federal loans alone.

Private Student Loans – These are provided by banks, credit unions and private lenders. With private student loans you can borrow up to 100% of your cost of attendance which can include tuition, fees, room and board and other college costs. Private student loans offer variable or fixed interest rates, and you can pay them while you're in school or when you graduate. Each private loan has different terms, so if you're approved, you and your potential cosigner should map out a repayment schedule to build and maintain good credit.
There is no standard solution for paying for college and it will look different for every family or individual. However, it is important to consider the big picture and have a realistic understanding of the costs and the return on investment. There's no one-size-fits-all college plan, and a combination of college savings and financial aid can go a long way in covering the cost of higher education.

To prepare for college, consider a strategy that starts with planning and filling out the FAFSA, but also involves looking at the value you're getting from the school you choose. Consult with experts, like your high school counselor and the financial aid department at the schools you're considering. They'll be better equipped to explain the options available and advise you as you move forward. Funding college education can seem like the impossible, but it is possible using the right strategy. Lastly, appreciate the opportunity of being able to send your child to college, go to college yourself, and earning an education is a great joy.

In order to begin saving money for college and feel confident in the financial decisions you're making, don't hesitate to reach out for extra help. SDCCU offers options for Savings Accounts, Certificate Accounts and other options to help you start your journey towards building your savings.

Visit our Financial Knowledge Blog to learn more tips on setting up a solid financial future or join us for Financial Wellness Wednesdays.

₁. According to US News, the average cost of tuition for 2020-2021 is expected to be: $35,087 for private college, $21,184 for public out of state and for public in state is $9,687